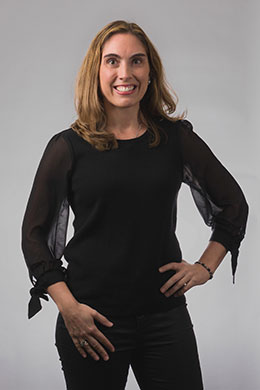 Creating an exceptional dental experience is about not only offering excellent dentistry—it's about building relationships with individuals and families that last, not just for a few years, but for a lifetime.
Dr. Kelcey Rhodes focuses on a comprehensive approach to dental care by combining oral health and aesthetics with total body health. She enjoys helping people feel and look better through quality dentistry—achieving beautiful results to help her patients' self-confidence.
Dr. Rhodes is dedicated to offering the finest dental care and honest recommendations based on her patients' best interests. Her devotion to patient-centered care is the reason that Main Station Dental has upheld an excellent reputation in the Puyallup community for more than 40 years.
Education and Continuing Education
Dr. Rhodes was born and raised in Puyallup, where she graduated from Bellarmine Preparatory High School in Tacoma. She received her Bachelor of Science degree from Seattle University in 2003 and her Doctorate in Dentistry from Creighton University School of Dentistry in Omaha, Nebraska in 2007.
Dr. Rhodes is committed to delivering the best possible care in the most comfortable environment, which is reflected in her pursuit of ongoing education and training. She stays up to date with the most innovative materials and techniques, along with systemic and sleep-related issues, in order to help her patients be as healthy as possible. Dr. Rhodes closely follows the Spear Education philosophy of restorative and cosmetic dentistry.
Professional Affiliations
American Dental Association
Washington State Dental Association
Pierce County Dental Society
Family and Community
When Dr. Rhodes isn't in the office, she loves to spend as much time as possible in the mountains, either hiking in the summer or skiing in the winter. Closer to home, she enjoys interior design and spending time in the garden.
Dr. Rhodes' passion for dentistry is surpassed only by her passion for being a mom to her girls, ages 6 and 9. She loves taking them on local adventures outside and spending as much time as possible in Lake Tahoe, where her sister and family live. In the winter, Dr. Rhodes and her girls spend time skiing closer to home. She enjoys working on her historic Tacoma home.